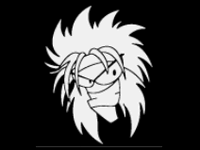 Mark Haynes (born July 29, 1984), also known by his online persona Alvin-Earthworm, is a freelance digital artist and sprite animator. He is mostly known for being the creator of the Flash series Super Mario Bros. Z. He currently lives in Northampton, UK.
Before Super Mario Bros Z., Haynes maintained a Newgrounds account where he occasionally posted flash animations. Haynes first came into the public light when he created the original Super Mario Bros. Z Episode 1 in 2006. It quickly became a favourite among those in the spriting community and was praised for it's animation and story by many. Throughout 2006, three more episodes would be released. The 5th and 6th episodes were released in 2007. By 2008, only one episode a year was being released, and fans began questioning Haynes on whether the series was still being developed. From 2009, Haynes began delaying the series, citing stress from fans constantly asking him about when the next episode would be released and offline mental health issues. In 2012, Haynes finally cancelled the original series, saying in a statement, "I have no doubt that it will be a very unpopular decision, but I think it's time I finally lay Super Mario Bros Z to rest.". In the same statement, he also said, "What was once a fun hobby of mine has now turned into a chore from the constant demand" and "I have been keeping the series on life-support this long, hoping that some day my creative spark would return to me. Unfortunately it never did.". Many fan-made continuations had spawned in this time, although they never got the same attention as the original series.
In 2013, Haynes published a new flash animation. It was a remake of the very first scene of Episode 1. He stated that he had some interest in possibly rebooting the series. This caught the attention of many long-time fans who gave their support. Throughout 2015, Haynes worked on the first episode of the reboot with the help of other flash animators, and it was fully released in January 2016. Not long after this, Haynes began announcing delays again, citing depression and lack of motivation from Nintendo shutting down his Patreon account in February 2016. Around this time, his social media activity became noticeably more erratic and based around ranting, and less about SMBZ. Fans started to become concerned about Haynes's state of mind and the development of the reboot. After this, Haynes began to largely ignore questions about the development of the reboot and mostly used his social media outlets for ranting.
In August 2017, a user by the name of 'Alen Alic' began claiming that he was a co-creator of the reboot and that he knew Haynes personally. Fans were highly suspicious and Haynes's sister later confirmed that Alen Alic's claims were false. Another user, LuigiLightning, claimed that he knew exactly how Haynes's depression worked and that Haynes was getting better and working on Episode 2 of the reboot. These claims were dismissed by the community as unfounded when LuigiLightning did not give any proof that he knew Haynes. He was later denounced by the community and is largely regarded as a fraud due to his claims of a "psychological gift". Other users claimed that he may be mentally ill himself after strange conversations with the user.
After these events, Haynes began losing popularity and attention and began fading into obscurity. Less and less fans believe that the reboot is still being worked on. During 2018, Haynes used his social media accounts to mostly rant about numerous things, most notably about Nintendo and new games and products it was releasing. At present, he mainly posts about Warframe on his social media accounts.
Criticism
Edit
Haynes has been the subject of criticism, mostly in the last two years. During the time that he continuously delayed development of the original series, a minority became hostile towards Haynes. Some blamed this minority for making Haynes cancel the original series, seemingly including Haynes himself.
However, in recent years, Haynes has received significantly more criticism. Since his Patreon being shut down by Nintendo, many have criticised his rants about them, with some claiming that he has a grudge with Nintendo. He has also made some very controversial statements, such as his disdain for children and his description of marriage as "antiquated", which received a lot of criticism. One response to his denouncing of marriage was, "makes sense that you'd have a problem with commitment", which was referring to him cancelling the original series and delaying updates on the reboot. For the most part, Haynes's fanbase has stopped supporting him and he no longer gets much attention on social media.
In the Spring of 2019, Haynes experienced a meltdown following the posting of a tier list for Super Smash Bros. Ultimate, where Princess Peach was at the top of the list. His rants spoke about how Princess Peach was an otherwise weak and useless character in her home franchise, but was met with sexism claims. He later deleted the offending tweets and apologised to the public.
Complete Videography
Edit
Bolded projects are that year's most popular submission.
The name "Alvin" in Alvin-Earthworm's username comes from an old Earthworm Jim fan character that he created in his late teens. He has since retired the character.
Contrary to popular belief, Alvin-Earthworm has been a furry artist longer than he has been a sprite animator.
External links
Edit
Community content is available under
CC-BY-SA
unless otherwise noted.